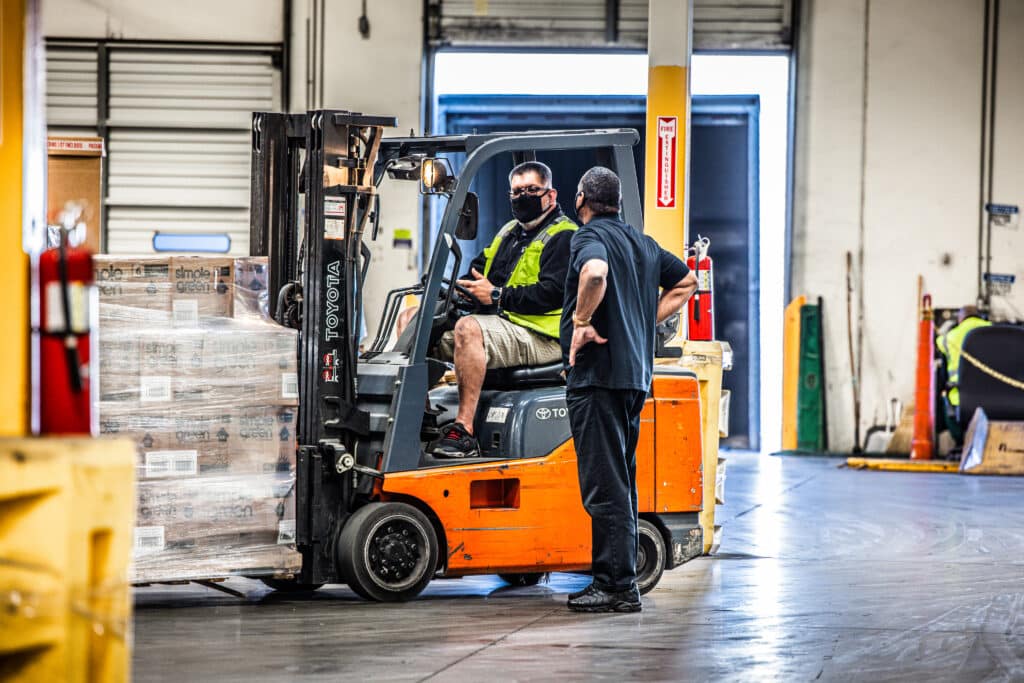 Operating a fleet is a lot of work and could interfere with a business operation. On top of the crucial and timely responsibilities to continue growing the business, fleet operations add extra responsibilities involving anything from hiring and maintaining competitive drivers, to dealing with new technologies, maintance, and administrae and operational support.  In order to work smarter, and not harder, many companies rely on dedicated fleet solutions to get their products to their consumers efficiently.  
What is a dedicated fleet? 
Also known as dedicated transportation, the dedicated fleet services are offered by a third-party logistics company. One coould think of it as a private fleet, but at a much lower cost and with less responsibility to upkeep. 
Within the third-party logistics company, a dedicated team is assigned to the client. It becomes an extension of your team and your business looking out for the best interest of your company. The best part is that all the logistics responsibilities are off your place, so that you can focus on the bottom line of the company.  
When using fleet outsourcing services, the are options to ensure the logistics company provides the client with complete visibility of the entity's operation, supply chain control, and guaranteed capacity. The client has complete control, but the details rely on the dedicated fleet services company. 
You gain access to the resources to use when and as you need, and leave the management to the logistics company.
Here are some of the benefits of hiring a dedicated logistics solutions third party. 
Benefits of a dedicated fleet solution: 
Gain an efficient and reliable business partner  
A logistics and distribution company can become an essential business partner, providing support and assistance at all times and throughout the whole process. The partnership is beneficial to the business to ensure every process is continuously reviewed and improved to better serve the business's customers. Efficient service translates into excellent customer service, which leads to customer retantion. A logistics company can help build programs around the needs of your company, acting as an extension of the business. Having dedicated transportation is about delegating a crucial task to a partner who strives to meet the same goals. 
Keep consistency, improve punctuality and reduce risk for error 
When leaving the transportation task to an expert, consistency comes into play. The dedicated fleet service has a process in place and is able to provide a consistent and reliable service for you and your customers. With consistent on-time deliveries, better shipment planning, timely pickups, and minimal risk of shipment damage, outsourcing fleet services is a smart business decision. 
Work with resources committed to your needs 
Similar to a low-cost private fleet, dedicated fleets have guaranteed capacity to transport the company's products and delivering at a stipulated time. There is no other freight on the truck, except yours. This eliminates the chance for your shipment to be damaged when loaded and unloaded at every other stop unrelated to your business, and eliminates any chance for delays.  You control the fleet. 
A dedicated fleet solution also means flexibility. When the logistics operation is committed to your business, it is easier to make route or schedule modifications when needed. 
Dedicated fleet services also open the door to negotiate contract pricing with some third party companies. This would guarantee your business capacity at a fix-cost. 
Optimize supply chain logistics to work efficiency for your business
As experts in supply chain and logistics, a dedicated fleet company focuses its time in making the processes effective and efficient. This benefits your business by keeping things running smoothly. Their expertise and resources figure out the best strategy to get your products to your customers and regularly optimize the supply chain process. Whether it is a local, regional or long-haul route, dedicated fleet companies encourage effective supply chain by ensuring your product is moving as it should, from warehouse space to your customer. 
Spend less and worry less 
There are many expenses associated with operating fleet. Hiring drivers, maintaining equipment, insurances, logistics, and permits are just some of the costs associated with it. Fleet operations costs time and money. Working with a dedicated fleet solution at a fix-cost service is cost effective for the company, as it will cover the transportation needs and handle all the logistics associated with it, keeping such issues off your plate. 
Spend more time on your business and less time worrying about logistics. 
Dedicated transportation is beneficial to companies looking to provide efficient and reliable service to their customers without having to add more stress to their operations. It is a great idea, especially for anyone with regular shipments to complete. 
Spend more time focusing on running your business, and partner with a trusting logistics company like Atech Logistics to simplify dedicated truckload shipments to get your products to your customers. Atech Logitics delivers the industry's best customer service to ensure every truckload shipment is distributed with the highest level of detail and integrity from the moment it leaves our facility until it's in the right hands.