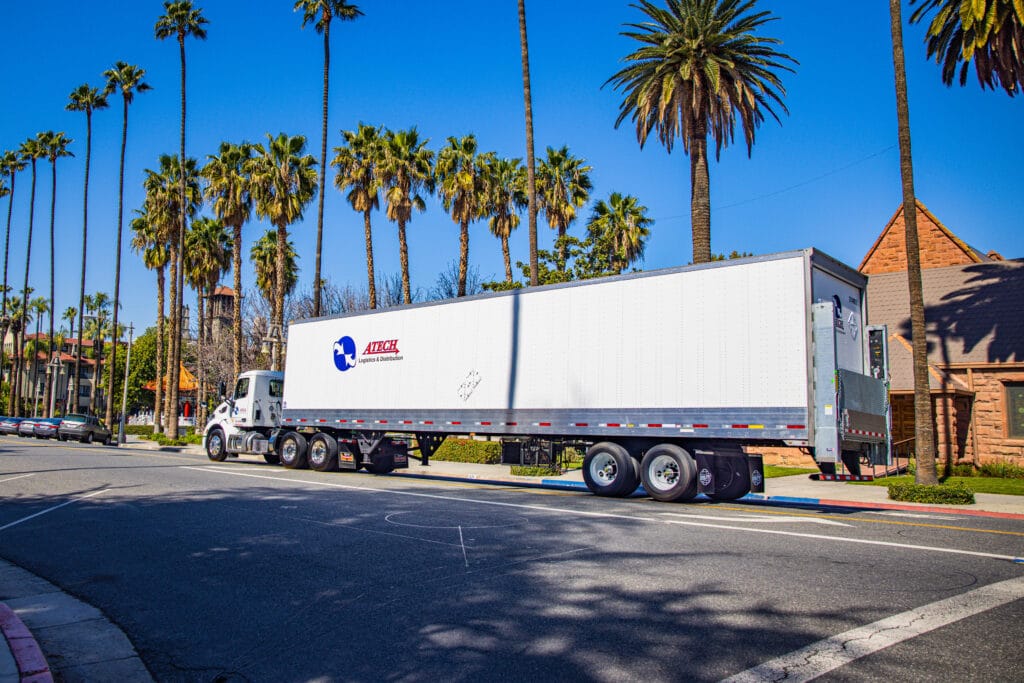 At Atech, we are committed to safety, and that reflects on everything we do, including hiring and developing a well-trained team. We hire experts who have been trained on topics relevant to the industry and their responsibilities, and we ensure they continue to develop, get re-certify, and educate themselves. This allows us as a company to ensure we are delivering the best customer service and providing a safe environment for our employees, customers, and community.
We are passionate about empowering every single team member to perform their job at their best capacity and grow professionally. Therefore, every employee in the company is responsible for completing a training every quarter, at least. Depending on job duties and each employee's required certifications, training is compiled ahead of time for completion. 
"We always aim to be ahead of the game," says Kristian Knox, Director of Fleet Safety at Atech.  "We make sure we are also providing education on new trends in the industry and the organization. If we see that there is a common issue that continues to come up, we make sure we provide more education on the matter to every employee." 
Education is a key tool to prevent issues from happening continuously—or to happen at all. For drivers, some of the most important education and re-certifications they receive are around the topics of speed and space management, backing, avoiding fixed objects, and hazmat. 
"We touch on these and many other subjects during orientation and throughout the year using our training platforms, and ensuring our drivers are up to date on their certifications," says Knox. 
With different government agencies to abide by, Atech ensures each driver is up to date on certifications required by the states they work in, and by the Federal Motor Carrier Safety Administration (FMCSA). Additionally, drivers and every employee at Atech completes other required training under companywide policies and procedures. 
Warehouse employees are continuously trained on topics, including forklift certification, liquified petroleum gas handling, hazmat, and various other company policies that ensure the safety of employees and the efficiency of the team. 
Atech is committed to setting employees up for success from day one with successful training that involves human interaction, online training, and hands-on training. 
During onboarding, each employee has the opportunity to have a supervisor or manager personally go through important policies and safety procedures. Then, they gain access to Sentix, a platform used to ensure each employee has access to their assigned training based on their job duty. 
To complete the initial training process, and to ensure success and safety, the new employees go out in the field and see the job done in real life. After in-person training in the field, the most important element of the training process takes place: hands-on training. "We can train our team online all day long, but if they are not doing it, and being watched, and being guided, then it wouldn't be beneficial," says Knox. "That is the successful part of our training". 
Providing education is not the only way to success when it comes to ensuring safety for employees. Atech understands that slowing down the process is the most efficient strategy to give employees time to learn, adapt, and grow. 
"It is important to take our time," says Knox. "Slowing down our training process is the way to success", says Knox. "We want to make sure they have time to fully understand it and feel confident. We want to have detailed conversations and detailed interactions to make sure we are answering all of their questions to set them up for success". 
Safety is a relevant topic and continuous goal at Atech. The team is always looking to learn and educate employees through initiatives aside from training. 
Monitoring truck drivers brings tremendous feedback to identify and address issues and ensure safety. Another internal initiative is the Elite Safety Driver Meeting, which connects drivers from different terminals to understand the role of each other and learn from each other. 
Atech is committed to safety and is continuously looking for ways to keep employees, customers, and our communities safe.