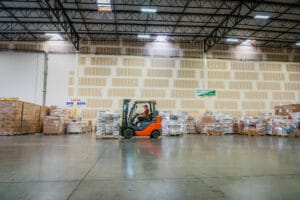 More than ever, customers want flexibility when it comes to shopping and having their orders fulfilled. Omnichannel distribution is what helps meet those consumer expectations. 
As an important part of the client journey, omnichannel distribution is imperative for the growth of a retail business. Whether the customer is buying online or in-store, a seamless experience is a priority. 
Since the start of the COVID-19 pandemic, the way people consume has dramatically changed, and their expectations have, too. In just three months, e-commerce experienced the growth it was projected to do in 10 years. This fast change reflects the new tendencies of consumers, who now prioritize convenience, and don't seem to slow down anytime soon. 
As e-commerce becomes a crucial part of retail, customers expect a seamless experience while shopping, whether they decide to do it online or in-store. 
Customers want to shop anytime from anywhere, and they want their order fulfilled at their convenience, whether that is in a brick-and-mortar or online. This has created a challenge for various businesses, making it important to be able to fulfill and satisfy expectations. 
The new consumer behaviors make omnichannel strategies a necessity, and no longer just a luxury.
6 types of omnichannel fulfillment logistics 
Buy Online, Pickup In-Store (BOPIS):

Customer makes a purchase online, the store fulfills from store stock, and the customer picks it up at the store. 

Buy Online, Pickup In-Store (BOPIS)

: Customer makes a purchase online, distribution center (DC) ships item to the store and the customer picks it up at the store. 

Buy Online, Ship from Distribution Center to Customer

: Customer makes a purchase online, Distribution Center fulfills and ships to the customer. 

Buy Online, Ship from Store to Customer:

Customer makes a purchase online, store fulfills the order, and order is sent to the customer.  

Buy Online, ship from Drop Ship Vendor (DSV)

: Customer makes a purchase online, the order is sent to Drop Ship Vendor, who then ships to the customer. 

Buy online, return in-store (BORIS):

Customer makes a purchase online and returns the item to the brick-and-mortar. 
What is Omnichannel?  
A customer could be looking at an item online, but finally decides on purchasing while at the store. Conversely, the customer could be at the brick-and-mortar contemplating a purchase, but finalizing it online. 
Omnichannel is the ability to make such an experience seamless and convenient for the consumer by unifying operations and product flows across all channels. 
Omnichannel allows the consumer to shop and receive orders from several sales channels with one-touch seamless integration. This includes forward and backward distribution services, which refers to the process when an item is returned. 
Multi-Channel vs. Omnichannel? 
Multi-channel and omnichannel distributions tend to be confused and debated from one or the other. They are similar in the sense that both allow the consumer to shop at a brick-and-mortar and online. However, the biggest differentiator for omnichannel distribution is its ability to incorporate "one-touch" integration, creating a seamless experience for the customer using channels. 
The key difference lies in the name: "Multi" means "many", and "Omni" means "all". 
The multichannel distribution gives the consumer many different options to purchase, yet, they do not integrate and connect. Assuming that a consumer is engaging and going through the shopping experience only online, or only in-store, is a thing of the past.  
Consumers want to engage throughout all channels. 
The omnichannel distribution gives the consumer all the channels to purchase from, and all the channels to have their order fulfilled. All integrated seamlessly. It puts the consumer at the core of the strategy. 
What are the benefits of omnichannel distribution for your business?
In short, omnichannel distribution is cost-efficient, improves transit, and provides a better customer experience. It's a win-win for everyone, including your business. 
Omnichannel distribution makes it more likely for consumers to conveniently complete their purchases, and for businesses to more effectively meet the fulfillment expectations. 
Online spending is on the rise. According to a recent study, in 2021, 2.14 billion people worldwide are expected to purchase goods online. Global e-commerce sales is forecast at $4.891 trillion. And the trend doesn't seem to be slowing down anytime soon. Projections show that e-commerce sales worldwide are going to grow to $6.4 trillion by 2024.
However, in-store experience has not taken a back seat. It continues to play a critical role, even if the purchase is completed online. 72% of digital shoppers consider in-store experience as the most important channel when making a purchase.
The customer might begin the purchase at the store and complete it online, or vice versa. With this shift in consumer behavior, omnichannel distribution gives the flexibility and convenience that the consumer expects. 
Organically, when customers experience an easy, convenient, and seamless purchasing process, they are more likely to come back. 
Data proves that companies with omnichannel customer engagement strategies retain on average 89% of their customers, compared to 33% for companies with a single channel. 
Omnichannel distribution increases brand loyalty, keeping consumers coming back, talking about their experience, and referring others. 
What do consumers love about omnichannel distribution? 
For many reasons, consumers also appreciate and benefit from omnichannel distribution, here are a few of them based on research:
The ability to see online the availability of a certain item before visiting the store. 

Being able to purchase an item online, and pick it up in person at the store. 

Having profile information stored across all channels for a faster and convenient experience at purchase. 

Experiencing consistency and personalized experience throughout all channels. 

Being able to access across platforms using social media. 
Best practices for Omnichannel Distribution
Omnichannel distribution requires teams within the company to collaborate and communicate, instead of working independently from each other. A unified business model allows for collaboration and communication to act not as a multi-faceted business, but as a unified organization working in collaboration to serve the consumer from different channels along their journey. 
Hiring a reliable and professional all-in-one third-party logistics resource makes your omnichannel distribution process a smooth journey for your business and your customers. 
Without you having to worry about the details and logistics, it becomes an extension of your business, giving you a strong competitive advantage providing a flexible, fully integrated distribution network, from storing products properly, to delivering to the right hands. All of this, while you focus on running your business.