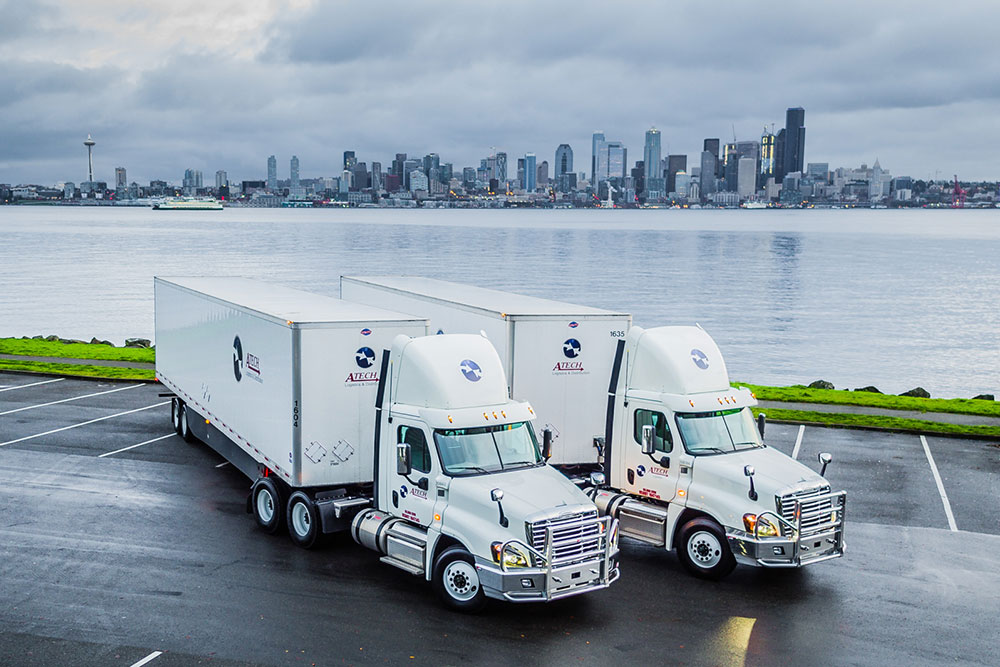 With technology rapidly advancing in all industries, it's easier than ever to collect and analyze data. By gathering and evaluating more data, companies can more readily find and correct bottlenecks, saving time and money in the long run.
However, as more data is collected, the higher the likelihood that data silos could begin to develop. When a data silo appears, collecting and analyzing data becomes obsolete. After all, if nobody is reviewing the data and fixing any identified problems, then what's the point?
What is a Data Silo?
You may not be familiar with the term data silo. If you're not, that's ok! We're here to help you.
A data silo is a collection of data that may or may not have been analyzed but has been collected and not reviewed. Meaning, the data has been collected but is either inaccessible or hasn't been viewed.
Why Data Silos Matter
When data goes unshared or unreviewed, it can lead to larger problems for logistics and transportation companies. That could include lost opportunities, lost revenue, or costly fees that impact the bottom line. Further, when data isn't collected or reviewed, companies can inadvertently make poor decisions.
For example, the Natural Resources Defense Fund (NRDF) reportedly wastes 40% of food produced in the United States, costing approximately $218 billion annually. Part of the reason for the waste is due to a lack of data collection, which results in data siloing. What data is collected isn't reviewed, analyzed, or shared with the right teams in time for the NRDF to make well-informed decisions.
But this problem isn't just in the food industry. Data siloing is an issue across many sectors and heavily impacts logistics and transportation.
Because of historical problems with data silos, Atech is mindful of how siloing can negatively impact a business, which is why we are sure to gather and analyze data during each step of the process.
By collecting and analyzing data continually, Atech ensures that we are continuously improving your company's approach, helping to eliminate bottlenecks, improving delivery processes, and providing you added value.
Because modern supply chains are stretched thin and pressured to make quick decisions, having accurate information based on the most current data available to managers and executives could mean the difference between a floundering and flourishing business.
Often, what's missing is a shared network to communicate between departments that impact each other.
How to Prevent Data Silos
The first step in preventing data silos is collecting data. Without data collection, company decision-makers know little about your industry and specific business. Collecting data during all manufacturing, packing, transportation, and distribution processes allows companies to see where the bottlenecks are and find creative solutions to each problem.
Another way to help prevent data silos is by implementing supply chain management platforms. These systems help companies collect data and distribute that data in real-time. By having data delivered immediately, companies optimize their processes from beginning to end.
Once data is collected, it's imperative to analyze the data and distribute the findings to the proper channels. Otherwise, the collection is wasted. As we said before, one of the ways to ensure delivery to appropriate channels is through a supply chain management platform.
Other methods include creating a supply chain with all of the following attributes: dynamic, intelligent, collaborative, graphical, predictive, self-driving, self-healing, multi-dimensional, fiscally sound, and reliable.
10 Elements of a Modern Supply Chain
In a healthy, modern supply chain, there are ten elements that companies will want to implement. Let's takes a closer look at what each of these ten elements includes:
Dynamic: there are multiple checkpoints along the way. Data is collected from partners, suppliers, third-party logistics companies (like Atech), and shipping agents.
Intelligent: the process identifies patterns and pattern shifts, helping companies to identify problems before they happen.
Collaborative: data is shared quickly with decision-makers, who can then make informed decisions to help the process, whether avoiding disaster or seizing opportunities.
Graphical: provides an end-to-end view of the process and helps decision-makers avoid high-risk routes, adjust plans, and eliminate redundancies that may have previously gone unnoticed.
Predictive: applying algorithms and analyzing collected data can help companies predict the future by forecasting specific scenarios' results.
Self-driving: the supply chain grows smarter and becomes a self-learning model to create a more efficient and reliable process.
Self-healing: when minor issues arise, such as inclement weather, the supply chain can address the problem without taking time away from the task at hand.
Multi-dimensional: by using a modern, well-organized supply chain, companies can forecast new products, save money, automate response market conditions, and more.
Fiscally Sound: when a supply chain is healthy, void of data silos, it can reduce costs and optimize efficiency. Additionally, a healthy supply chain can support growth into new markets and create more revenue.
Reliable: continuous monitoring of your supply chain can help save time and money by identifying and communicating problems with materials, like goods exposed to incorrect temperatures or elements that may have contaminated the goods.
Addressing Data Silos
By addressing supply chain data silos, companies set themselves up for success. When a company can eliminate bottlenecks, ensure products arrive on time and in good condition, and strengthen their bottom line, the company's overall health benefits.
While not all companies can afford to fully automate their supply chain with advanced technology, keeping the status quo is costly. Even a frequent manual evaluation of your company's supply chain can save you time and money in the long run.
Keep in mind that communication between departments through every step of the supply chain is the key to ensuring data silos don't harm your business.
Still not sure where to begin with limiting data silos? Reach out to Atech and we'll partner with you to optimize your supply chain and beyond.