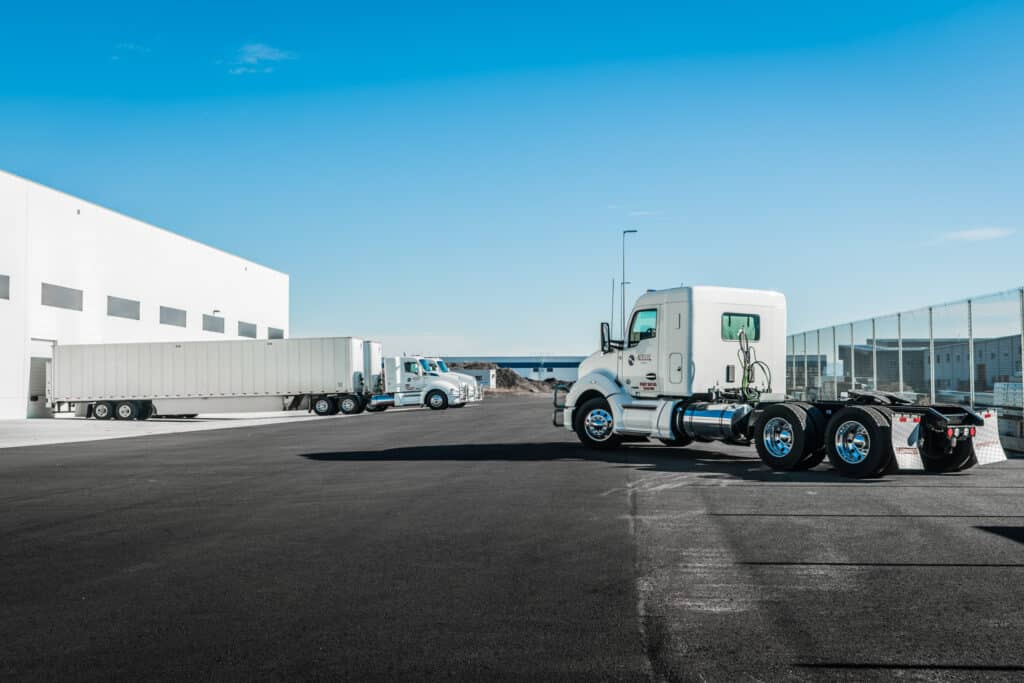 The logistics industry helps connect businesses and consumers across the world. The global economy depends on shipping, and for such an important role, there are three methods: ground transport, air freight and water freight. 
Each method has its own set of characteristics, advantages, and considerations. Making an informed decision when choosing a method will have a tremendous impact on your business, so understanding each is crucial.
Land Freight
The most common method for domestic shipments, ground shipping refers to the transportation of goods over land, typically using trucks or trains. 
Pros of transporting cargo by ground:
Economical:

Ground shipping is often the most economical option, particularly for shorter distances or when shipping larger, heavier items. The relatively low fuel costs and well-established road networks contribute to its affordability.

Accessible:

Ground shipping offers excellent accessibility, reaching both urban and rural areas. It provides door-to-door service, making it convenient for businesses and individuals alike.

Flexible:

With ground shipping, you have the flexibility to choose from a range of services, including expedited options for time-sensitive deliveries. This adaptability ensures that you can meet your specific shipping requirements.
Cons of transporting cargo by ground:
Longer transit times:

Compared to air or water shipping, ground transportation is generally slower, especially for long-distance or cross-country shipments. 
Air Freight
Ideal for time-sensitive shipments, fast and efficient, air shipping involves the transportation of goods by aircraft. The use of air freight is highly recommended for moving perishable goods or high economic value goods that are not large, such as jewels and works of art. 
Pros of transporting cargo by air freight:
Speed and reliability:

Air shipping is the fastest mode of transportation, making it invaluable for urgent or time-critical shipments. It significantly reduces transit times, allowing for quick delivery.

Global reach:

With a vast network of airports and airlines, air shipping provides access to almost any destination worldwide. This global reach is particularly advantageous for businesses with international customers or suppliers.

Enhanced security:

Air shipping often comes with higher levels of security compared to other methods. Airlines implement rigorous security measures to ensure the safety of cargo, making it a preferred option for valuable or sensitive goods.
Cons of transporting cargo by air freight:
Ocean Freight (also known as Sea Freight)
Ocean freight accounts for 90% of goods transported around the world, becoming the most common form of transport for international trade by importers and exporters. Also known as water shipping, ocean freight involves the transportation of goods by ships or vessels. 
A ship is primarily used to transport non-perishable goods, such as feed and cereals. Equipment and machinery of various nature and raw materials such as coal, minerals, iron, steel, and sand are also best transported by ocean shipping. 
Pros of transporting cargo by ocean freight:
Economic way to transport large shipments:

With water shipping,

it is more cost-effective to transport large quantities of materials compared to competitors by land and air. It is a better option to ship

volumes of goods, such as raw materials and heavy cargo, particularly over long distances. 

Environmentally friendly:

For businesses looking to reduce their ecological impact, ocean freight is an attractive option. Compared to airplanes and trucks, ships have a significantly lower carbon footprint making them a more environmentally friendly option. 
Cons of transporting  cargo by ocean freight: 
Limited accessibility:

Water shipping relies on ports and their infrastructure for loading and unloading cargo. While major ports are well-equipped, the accessibility of certain inland or remote locations may be limited.

Longer transit times:

Water shipping is slower compared to air or ground transportation due to factors such as port congestion and longer distances. It is essential to consider these longer lead times when planning shipments via sea.
Intermodal Freight Shipping: More than one type of transport
Due to various reasons, one form of transportation only might not be an option for your needs. In such a case, intermodal freight shipping can use the best of all worlds to transport the goods successfully to their destination. 
Intermodal transportation is a logistical strategy that involves the coordinated use of multiple modes of transportation to move goods from one place to another. Unlike traditional transportation methods that include only one mode, intermodal includes two or more, such as trucks, trains, ships and planes. 
The flexible and efficient solution utilizes the strengths of each mode to work together and get the job done more efficiently and in an orchestrated manner. 
What to Consider When Selecting a Shipping Method
Choosing the right method of transportation is imperative for your business. Cost-effectiveness, efficiency and customer satisfaction must be at the top of your priorities, so analyzing each shipment is important to determine the right method. 
Ground freight is an economic method that provides accessibility and flexibility, becoming an excellent choice for domestic shipments. Air freight is a fast method with global reach and security, making it ideal for time-sensitive and valuable goods. Ocean freight is an economical method for large and bulk shipments and is also environmentally friendly. 
When choosing the right method, factors such as cost, transit time, destination and the nature of the goods will help make an informed decision.